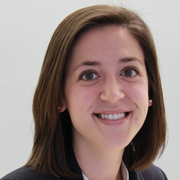 Newry is pleased to welcome Lisa Felter to our team!
Lisa joins us from Case Western Reserve University, where she earned her PhD in Physics and subsequently completed a postdoctoral fellowship in Radiology. Her research focused on characterizing magnetic nanoparticles for therapeutic applications and developing a cancer drug delivery technique that improved delivery to fatal metastatic disease roughly 500-fold.
Prior to her doctoral program, Lisa received her BA in Physics and completed the Master's Program in Physics Entrepreneurship (PEP) at CWRU. During her time in PEP, she consulted directly with several Cleveland startup companies, gaining valuable experience in feasibility analysis, market research, and competitive analysis, and creative problem solving.
Lisa has co-authored ten peer-reviewed articles, and has traveled internationally to present on magnetic nanoparticle detection. Her analytical and leadership credentials are excellent, and we're thrilled to have her aboard. Welcome, Lisa Felter!