Proven Tools and Techniques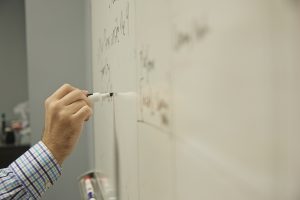 There is always risk in trying anything new, but Newry's world-class research capabilities and creative analytical frameworks, honed through 30+ years of experience and 800+ projects, reduce uncertainty and free up valuable resources for our clients. Our methods reveal nuanced and reliable information even – and especially – when it comes to highly technical subject matter or complex market landscapes.
Deep Primary Research
When you're entering a new market or developing a breakthrough emerging technology, a standard market report will only get you so far. For these high-risk, high-reward ventures, direct insight from key value chain players and researchers is invaluable to making good investment and business model decisions. Finding the right individuals to talk to is hard enough; eliciting useful information from them is even more challenging.
Newry's network extends across a broad range of industries, and we have a consistent and reliable process for identifying and engaging relevant experts in a vast array of topic areas. Our approach draws on "grounded theory" methodology, using open-ended questions to identify the key variables that are driving a particular phenomenon (e.g., why customers aren't adopting a particular product line) and coding responses across multiple interviews to classify and quantify major themes. The resulting insights can inform a range of actions, including value prop messaging and product strategy or modifications.
Outreach efforts can be customized to ensure your anonymity to remove bias entirely or unblinded to generate meaningful customer connections. We also travel globally to immerse ourselves in top industry events, trade shows, and conferences, and bring our insights back to you.
Advanced Survey Capabilities
Companies in the B2B space often have less access to and awareness of leading tools for gathering and understanding customer and user data than their B2C counterparts. While surveys are not always the most time- or cost-efficient solution for obtaining critical value prop insights, they can provide tremendous value when used in the right way.
Newry has broad capabilities in writing questionnaires, acquiring panels of respondents (both industry professionals and consumers), executing surveys, and analyzing response data. We regularly deploy sentiment analysis and conjoint analysis to help clients identify nuances in target customer segments and obtain granular data on willingness to pay for various combinations of product attributes. Our survey-based projects have helped our clients cut costs and grow market share by clearing out less desired SKUs, optimizing new product design, tuning marketing messages, and negotiating with development partners.
Data Science Tools
The SONAR™ process draws on proprietary data sources and algorithms to accelerate and improve the process of identifying new opportunities for our clients' technologies. Our data analysis partner, Aperture, is currently developing a much more expansive suite of data science-based capabilities to spot specific unsolved problems across emerging markets.
Quantitative Analysis
Our rigorous primary and secondary research tools inform the analytical outputs we deliver to clients, including granular market sizing and segmentation, customized financial analysis and forecasting, pricing guidance, and in-depth cost modeling. The quantitative support we provide for our clients is never templated or genericized but takes into account your unique context, strategic goals, and critical uncertainties. Our creative approaches to market segmentation have helped struggling clients understand their target customers better, and the financial models we've built side-by-side with innovation program leaders have helped to generate stakeholder buy-in, justify major funding decisions, enable key strategic pivots, and manage response to competitive entrants.
Research & Analytics