Insight and Strategy for Innovators
Newry advises B2B companies operating in technology-intensive industries and emerging markets — think optical assemblies for augmented reality, engineered components for medical devices, next-generation polymer films, additives for automotive lightweighting, etc. We work closely with CTOs, VPs of NBD and strategic marketing, research directors, business unit heads, and other innovation leaders whose choices directly affect the success of their companies, as well as the composition of products and processes that reach millions of people every day.
We also partner with a broader range of product- and service-based companies to solve complex business model problems, such as:
Rethinking the path to market for a medical supplies distributor with a novel connected product offering.
Defining new ways for insurers to deliver value to their customers.
Providing guidance for a forklift company entering the warehouse automation space.
Whether they're producing ferrite or faucets, our clients face unique challenges such as overcoming limited access to end users, navigating unfamiliar emerging industries, and deciphering complex value chains. They seek Newry's specialized insight and creativity to move past those barriers and bring new technologies and products to market.
Our Story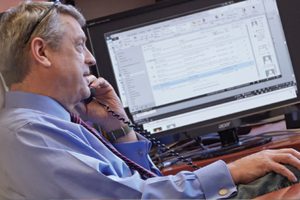 Founded in 1987 by Mark McClusky, Newry Corp has been supporting the commercialization of cutting-edge products and partnering with world-leading materials innovators for more than three decades. Newry's offices are located in Lakewood, Ohio (just outside of Cleveland), but our client base and SME network are international, and our knowledge base covers topics ranging from nanoparticles to superconductors to cooling textiles.
In 2018, Matt Szugye took over leadership of the firm as Managing Director, just 10 years after starting as an associate. Under Matt's guidance, Newry continues to flourish and diversify: we recently spun out a data science business that is helping us develop a powerful capability for finding new opportunities for our clients (check them out here). We regularly partner with design firms to drive a more effective, holistic approach to innovation. And we're working on a few other tricks to help propel our clients forward as well.
Our Purpose
Catalyze growth for our clients, colleagues, and communities, together.
Exceptional Client Service
We go above and beyond to build lasting, trust-based relationships with our clients.
High Integrity
We make choices we stand by and take action we believe in.
Curiosity and Innovation
We reward unconventional, out-of-the-box approaches to problem-solving.
Better Together
We cultivate a collaborative, ego-free environment to produce the best possible outcomes.
Good Citizenship
We treat our clients, our communities, and each other with the utmost respect and care.
Growth Mindset
We are constantly seeking to learn and improve, both individually and as a firm.
About