Last year, the 2019 Consumer Electronics Show knocked our socks off with a variety of sleek, low-profile gadgets, some exciting advancements in smart home products, and a massive step forward in flexible display technology. CES 2020 felt more subdued by comparison – many vendors showcased the same or slightly improved versions of products from the year before. Nevertheless, while these refinements may not seem as groundbreaking, this type of innovation is an important step in developing the major breakthroughs of tomorrow.
Here are a few of the themes we noticed on the show floor:
AR/VR: One Spec at a Time
The sheer number of augmented and virtual reality products at this year's show was dazzling, but some manufacturers, like Bosch, weren't quite ready to bring their prototypes out from behind the glass. The headsets we did try on were comparable to offerings from previous years: adequate for a demo, but still a long way to go for actual consumer adoption. It seems that some companies have succeeded in optimizing for one feature in their headsets – e.g., field of view, resolution, comfort, etc. – but none have yet managed to crack the problem of resolving the tradeoffs between multiple specs to provide a "total package" solution.
Made in China
Several of the major Chinese display manufacturers who attended CES last year – Konka, Skyworth, Hisense, and TCL especially – were noticeably more prominent this time around, with bigger and more centrally located booths. Product-wise, they're still playing catch-up with the big players and didn't have much to show that we haven't already seen from the likes of Samsung and Sony, but there were a few notable bright spots. Skyworth and Konka definitely leveled up with their 88″ 8K OLED TVs. Konka and TCL both had large MicroLED TVs (236″ 8K and 132″ 4K, respectively) at their booths, and TCL's 55″ 8-series QLED TV with MiniLED backlight was particularly striking – compared side-by-side to an OLED TV, there was no discernible difference in display quality.
(Mostly) All Quiet on the Big OEM Front
Compared to their stellar showing last year, the major players in consumer electronics didn't make much of a splash during the CES 2020 show. Samsung showcased incremental improvements in their MicroLED displays and LG demoed some new options for deploying their rollable TV, but the basic concepts hadn't changed. LG's massive "OLED Wave" display, while visually stunning, wasn't notably distinct from last year's "Massive Curve of Nature." Everyone was talking about Sony's beautifully designed concept car, but their consumer product offerings didn't evolve substantially.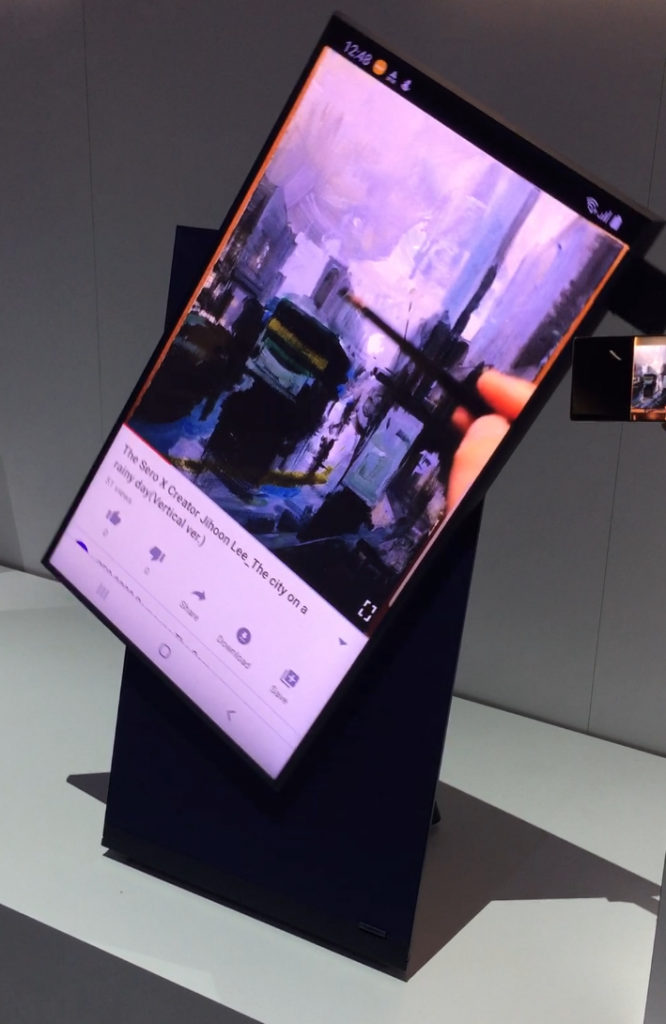 The one interesting new concept we did see from Samsung and LG, as well as Skyworth, Hisense, and TCL, was a rotating TV that switches from landscape to portrait mode. This dynamic set-up is targeted at consumers who want to watch cell phone videos (which are often recorded in portrait mode) or interact with their mobile interface on a larger display. These products seemed to be part of a broader emerging trend of innovations meant to cater to millennials and Gen Z. Samsung, for instance, also had a piece of software that mirrors your phone display onto your television for split-screen multitasking.
Despite fewer game-changing technical breakthroughs, CES 2020 was an inspiring event that already has us looking forward to next year to see how the industry handles our rapidly changing way of life and as-yet undiscovered use cases and applications. We have no doubt that massive amounts of investment and development activity are underway to make next year's CES even bigger and better. We'll see you in Vegas in 2021!
Find out how Newry can help your organization anticipate future needs and stay ahead of disruptions. Don't wait until you're left behind.