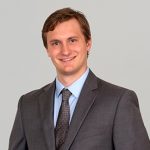 We are excited to welcome Andrew Gartley to our team!
Andrew recently completed a B.A. in Mathematics and Computer Science at Wesleyan University. He brings to Newry experience in working with distributed systems, machine learning algorithms, and cryptography, as well as strong leadership skills – during his time at Wesleyan, he served as the captain of the Varsity Swimming Team for one year and the Club Water Polo Team for two years. He also served as Strategic Activity Development Director at Camp Lawrence, designing and implementing new training procedures to improve staff effectiveness.
We're delighted to have another wonderful new consultant on board. Welcome, Andrew Gartley!